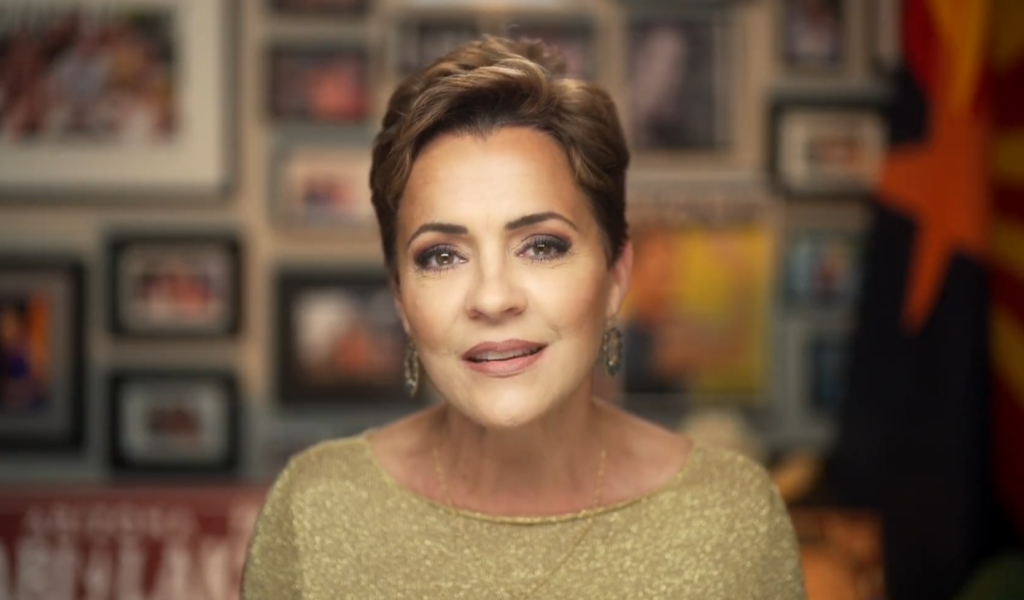 I am proud to endorse the #TeamTruth slate to lead the Maricopa County GOP! Election Integrity is my top priority & these Patriots have been fighting this fight for years. They walk the walk. This is the team to support!
– Kari Lake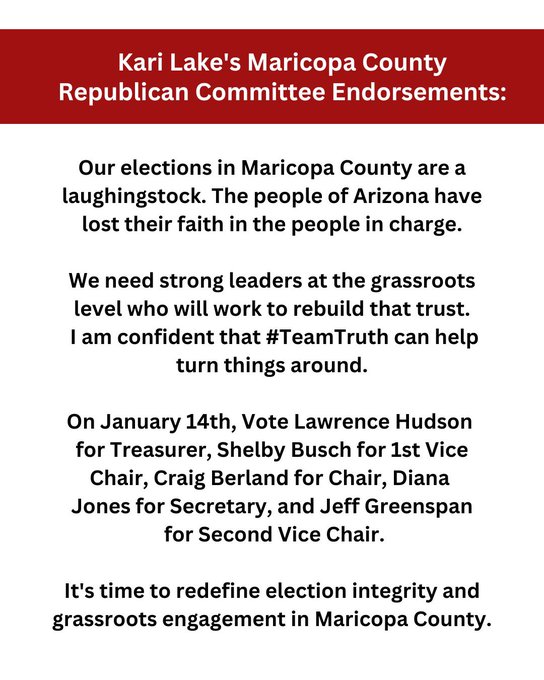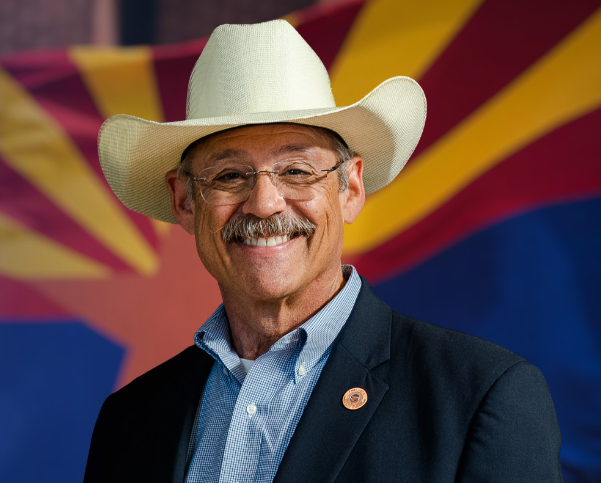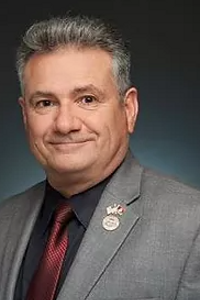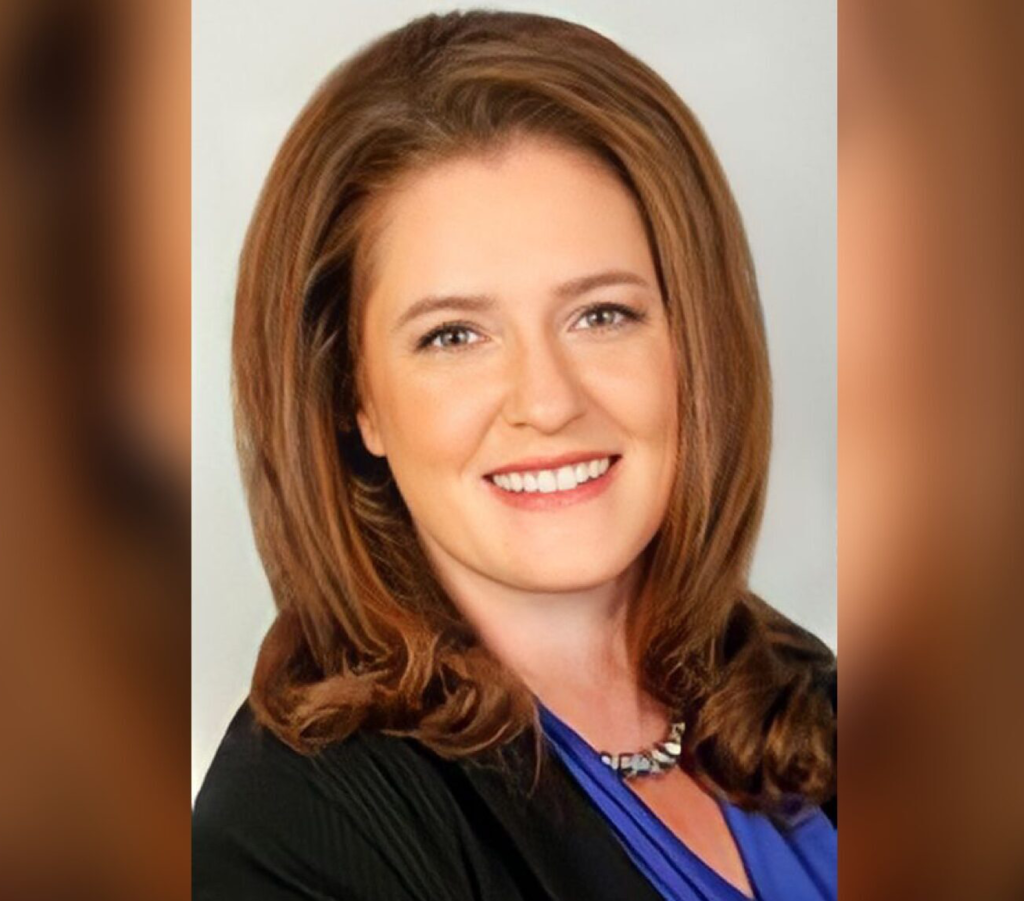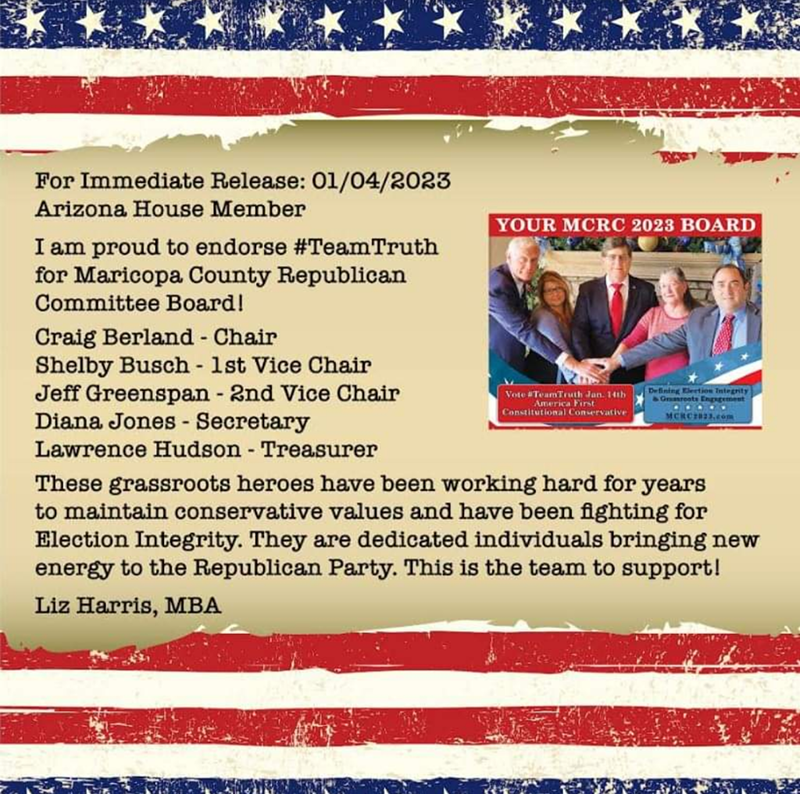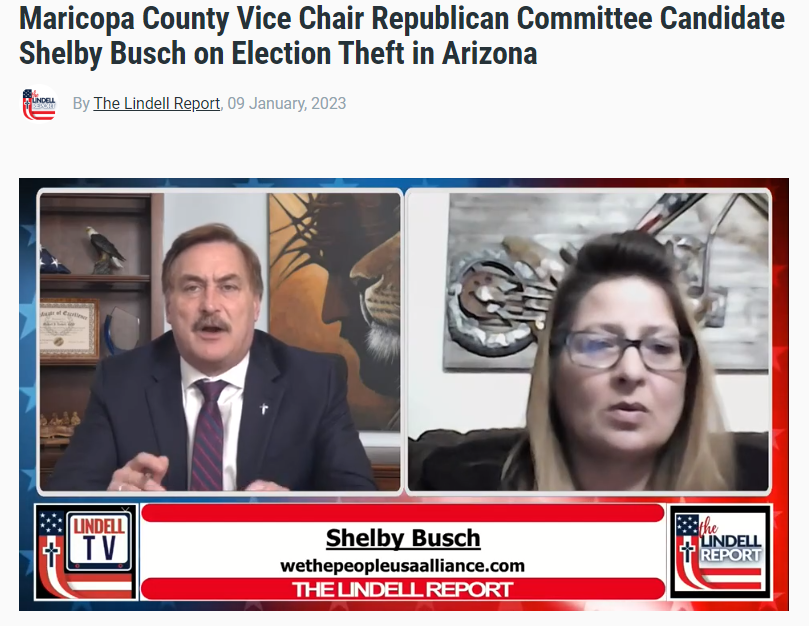 As a former MCRC Chairman, I unequivocally endorse the America First Constitutional Conservative slate for MCRC Executive Board.

I have served as both a district chairman (2005-08) and 2 terms as MCRC Chairman (2009-2012). During this period much of my time was spent opposing the leftward drift of many Republican elected officials. My emphasis was always that their policies should be derived from our Constitutions and party platform and that Precinct Committeemen's (PCs) opinions should carry more weight in governing our party.

After reviewing the qualifications and political activities of the members of this America First slate, combined with my long term association with Jeff Greenspan (who served as my MCRC 2nd Vice Chairman), I enthusiastically endorse this team. I believe they will emphasize the role of PCs and the need to hold our elected party officials faithful to our party platform.

My wife, Marne Haney, is a former MCRC First Vice Chairman and AZGOP Assistant Secretary and enthusiastically joins me in this endorsement.

– Rob Haney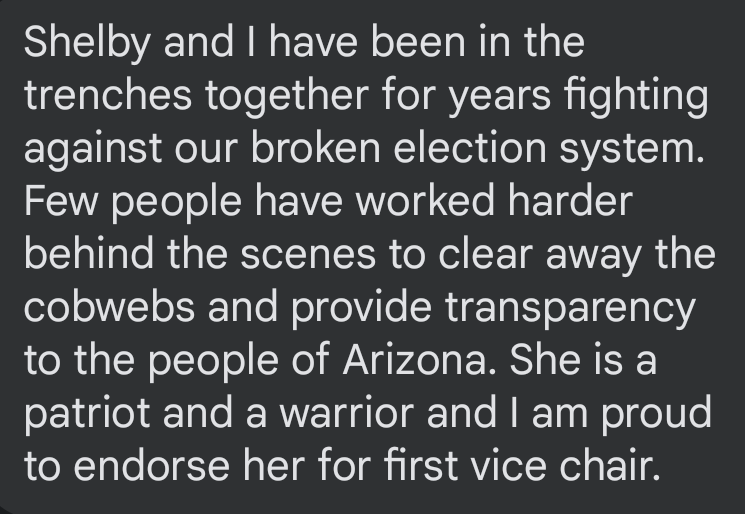 – Alex Kholodin
It is my distinct honor to endorse this slate of candidates for the Maricopa County Executive Board for the January 14th election:
CHAIRMAN CANDIDATE, CRAIG BERLAND and I served together on the Ad Hoc Committee which rallied at our state capital in support of the "AZ Declaration" and  Representative John Fillmore's bill on Election Integrity. Craig was a major supporter of several primary candidate campaigns and provided travel facilities in Mark Finchem and Blake Masters general election campaigns.
FIRST VICE-CHAIR CANDIDATE, SHELBY BUSCH runs the "We the People, AZ" patriot group supporting the research behind the Kari Lake legal team. She is state director for the "America Project" and Chairwoman of Republican LD 22. Served as Deputy State Senate Liaison for the Maricopa County Audit and involved in Election Integrity since 2015.
SECOND VICE-CHAIR, JEFF GREENSPAN and I go back 10 years when Jeff last served on the MCRC Board modeling strong principled leadership. Thankfully Jeff has made himself available once again to serve an active role when needed.
TREASURER CANDIDATE, LAWRENCE HUDSON solid conservative, analytical, trusted fiduciary will serve us well in the treasury role. Careful and reliable voter-roll and database expert. Active in voter canvassing and forensic audits.
SECRETARY CANDIDATE, DIANA JONES currently serving as Secretary/Treasurer of LD 22 is an Air Force Veteran of 20 years, and a lifetime member of Daughter's of the American Revolution (DAR). Recently served as campaign treasurer for Steve Robinson's State Senate race. Diana and I studied years ago in an Americans for Prosperity training class.
– Jim O'Connor

"The proof backed by an abundance of evidence shows that the American PEOPLE have lost control of their greatest right as a CITIZEN – their VOTE & CLEAN ELECTIONS. Those who have done the work – to understand the severity of the corruption & danger this poses to our nation – & have the guts to address this issue, are those who need to take leadership to save our state of Arizona & to help save our country. We have suffered from leadership that stubbornly refused to even examine the issue & pursued strategies that doomed our elections.
It's time to acknowledge the facts, put them into context in terms of the even larger battle we are facing – the Great Reset, & move forward boldly, courageously & strategically!
The only Slate running for leadership that has a real hope for tackling the corrupt mess in Maricopa County is the Truth Team headed up by CraIg Berland & Shelby Busch. Please look at the outstanding credentials of this team. They are not self promoters & are guided by their passion for the truth & will do the work it takes to follow their truth. Given their diverse backgrounds & experience, they are not one issue candidates. I believe they are smart & trustworthy!"
– Bonnie Epstyne